Ayahuasca Colombia & Nicolas Canon:
The Way of Fire
A 9 days Shamanic & TANTRIC Journey back INTO UNION (NOV 20 – 29)
THE WAY OF FIRE - 2023
(Registration open for individuals and couples)
AN ALL-INCLUSIVE, 9 DAYS IMMERSION INTO THE ART OF CONSCIOUS RELATING, EMBODIED INTIMACY & SACRED UNION.
NICOLAS CANON & ANASTASIYA TUMANOVA, TOGETHER WITH NATIVE AYAHUASCA SHAMANS, WILL GUIDE YOU INTO THE ROOTS OF YOUR RELATIONAL BLOCKAGES, MASCULINE & FEMININE ENERGY MISUNDERSTANDINGS AND SPIRITUAL CLOSURE THAT KEEP YOU FROM EXPERIENCING THE POWER OF FIERY, SACRED LOVE.
During this 9 day immersion you will undergo an ancestral rite-of-passage into the art of Sacred Union.
The Way of Fire is an initiation into the depths of sacred womanhood / manhood.
You will be invited to embrace the final shedding of old wounds, patterned layers of relating, fears, insecurities and confusion around love, relationships and connection.
The Way of Fire is a journey where you will adventure to and through the blockages that keep you stuck in painful repetitive patterns of feeling, being and relating. Once you become intimate with the darkest parts of yourself, you will be able to integrate the wisdom, power and stagnant energy they carry.
You will be free from the invisible, inner threads that have been rigging your life and relationships up until now.
You will be able to bring the fullness of who you REALLY are into every interaction.
Allowing you to experience a sense of connection, aliveness and freedom unlike anything you have ever felt before.
Through ancestral, yogic & tantric practices you will be prepared and guided by Nicolas Canon, his wife and team to ensure that your mind, body and heart are in their optimal, open and most receptive state to safely embark in the Ayahuasca ceremonies.
The prayer that has been placed on the medicine you will receive is that of Sacred Union: The ultimate merging of the masculine & the feminine, birthing place of all divine creation. 
The Way of Fire is a quest for those who are ready to uplevel and transform their relationships: To themselves, their (current or future) family & God. 
Your calling is calling.
Ayahuasca Colombia & Nicolas Canon present:
The Way of Fire
(November 20 -29th)
Medellin, COLOMBIA
Who This Adventure Is For
This adventure is for those who have realized that there must be so much more to life and relationships than what they are currently experiencing. Those who refuse to accept a plateaued sense of connection, beauty and passion.
It is for those unwilling to settle for mediocre love..
Whether that is making the choice to finally end a relationship that has gone way past its expire date, renew the vows and rekindle the passion, connection and commitment in their existing one, or finally attracting a powerful, aligned life partner.
It is for those who feel the urgency of deep clarity in their relationships, done playing small,  done being victims of their unhealthy patterns and ready to -for once and for all- take the leap into a healthier, more aligned and conscious ways of relating.

Men and women in search for beauty and grace. 

It is for those who are determined to feel the full throttle of their life force flowing through them. Men and women ready to shed those last layers of immaturity, heal their inner child and claim their space on earth as a conscious WOMAN & MAN: A space of clear direction, purpose, powerful connections and grounded fulfillment. This is for those ready to say goodbye to the part within them who hides their heart out of fear. 

Above all, this is for those who seek to expand their container to experience and feel beauty: Men and women crazy enough to seek to be deeply touched and inspired by life itself. People who are ready to give up the journey of becoming and seeking and are ready to step into BEING.

This is for those ready to face, head-on, their darkest, unknown parts.
Literally.
Whether it is negative emotional experiences that you were unable to fully process in the past or ingrained beliefs and thinking patterns that seem confusing or impossible to come out of – If you are able to finally release everything that gets in the way of true intimacy with the world – you will tap into a forgotten source of love, energy and commitment.

This is for those brave enough to risk it all for their loved one. Those ready to claim the depth, passion and connection that Sacred Union have to offer..

This is for the men and women who are ready to be shown a clear, no-bs mirror of who they are, where they are at, and what they need to become better partners (and for those who are single, attract much better partners too.)

This is for those ready to finally let go and die to all that is no longer serving them, and in the process re-discover who they are.
And from that place, learn the age-old dance of the masculine & the feminine, and the right way of flowing in harmony with the source of it all.

This is for those ready to play with fire.

Phoenixes, ready to honour the sacred call of Rebirth. 
" In its proper ceremonial setting, under compassionate and experienced guidance, the plant—or, as tradition has it, the spirit of the plant—puts people in touch with their repressed pain and trauma, the very factors that drive all dysfunctional behaviours. Consciously experiencing our primal pain loosens its hold on us. Thus may ayahuasca achieve in a few sittings what many years of psychotherapy can only aspire to. It may also allow people to re-experience inner qualities long been missing in action, such as wholeness, trust, love and a sense of possibility. People quite literally remember themselves."
- Dr. Gabor Mate
HERE IS WHAT PAST ATTENDEES (of similar retreats) HAD TO SAY
" ..I'm just NOT interested in being the way that I was before..
I had heard that this could be the equivalent to 10 years of therapy in a short period of time and -having done quite a lot of therapy and really appreciating therapy- this just blows it out of the water.
I think 10 years is an understatement.
I've been to workshops before and this feels different. There's nothing like it! "
J. T. Hudson – Investment Advisor
"The key to all of your behaviors is hidden in a box that you can't open using normal tools, your subconscious needs a different recipe than the one you've been using."
- Gerard A. Powell
through the way of fire you will:
Experience profound healing of old wounds, trauma, addictions and illnesses
Learn the art of conscious communication, conflict repair and being vulnerable
Be initiated into the sacred masculine & sacred feminine archetypes
Let go of self-doubts, depression, anxiety and lack of self-worth
Recognize the blind spots that have you feeling stuck in repetitive cycles of dysfuntion in your relationships
Heal the wounds you carry from your parents, previous & current partners
Cut out energetic chords from all previous lovers
Renounce old, disempowering ideas about intimacy and commitment
Reconnect with a higher force that has always been inside you, a force full of wisdom, compassion and love – some call this energy the spirit of Mother Earth, God, Shiva, The Universe, Source, grace…
Whatever your religious beliefs, you will rediscover the sacredness and forgotten beauty of life itself. 
In healing your masculine & feminine energies you will learn to embody true Sacred Union within yourself, and be able to live it and experience it relationally.
CONSCIOUS CONTAINER: 10 spots available
3 spots left
EARLY BIRD: SOLD OUT
TIER 2: 
$4700 SINGLES – $ 8300 COUPLES
( Payment Plans Available )
ENROLL HERE
So…What's Included?
9 Days Adventure Into the Unknown:

Immersive Workshop Experiences (Guided meditations, movement, tantric practices, ancient masculine and feminine rituals, Somatic Cathartic releases & more)

4 Ayahuasca Ceremonies

"Aya Ready" comprehensive online preparation course with recipes, do's and don'ts, cleansing practices & more!

Preparation & Integration group calls (a 3 month journey of transformation)

Shared Accommodation

Plant-based meals prepared with love by Nico's own mother and Godmother. 

Exploration through hidden natural gems in Colombia (landscapes, waterfalls, mountains & forests)

Guided Daily Integration Circles

One-on-One time with Nicolas Canon
Daily Yoga and embodiment practices
PreRetreat Breathwork + Meditation journeys

Herbal bath cleanses & Stinging Nettle Therapy* (upon land's availability)

Education on the use of Tobacco, Ortiga, Ambil & Mambe as healing and consciousness support tools

Lifetime access to the Rebirth Graduate's family

Ayahuasca Recipe Cookbook (for the preparation dieta)
Digital Access to the "Icaros" and Medicine music played by the shaman during the ceremonies
Walk through the sacred lands and cleansing ceremony under the crystalline waterfall stream
Caguana "Sweet Heart Medicine" ceremony, a pineapple brew made by the women of the community (think cacao on steroids!)
Tantric, Connection, Vulnerability and spiritual development Workshops
Private concert by local medicine musicians and the women of the land.
 The Maloka (medicine temple)
The Way of Fire takes place in the midst of an Ayahuasca Community located in the depths of a sacred forest in Guarne, Colombia.
This temple has been consecrated by some of the most respected shamans across South America, and every single one of its pillars has a story, a prayer and a blessing to support the spiritual journey of those who step into it.
The Ayahuasca Ceremonies
We will share a few other native medicines (non-psychoactive) that make part of the indigenous daily rituals, including tobacco, coca leaf, bitter and sweet herbs, caguana brew and more.
You are not a tourist, for you will be invited to live like one more of the community. To share the traditions, to learn some of their wisdom and to bring home this experience deeply rooted into your heart, so you can become a beacon of healing and service to those around you.
The ceremonies will be guided by the land's shaman Jeronimo Delgado and (if present) his maestro, Taita Henrii Muchavisoy – so you're in the hands of two of the most trustworthy and big-hearted men in the plant medicine world.
Food as Medicine
The Sacred Path menu is mostly vegan (and we are happy to adapt to specific allergies and food restrictions of each participant)
However, in the ayahuasca tradition the second most important place after the temple is the community's kitchen.
Beside the quality of the food that you are eating, the energy of those who prepare them is embedded into every meal that you digest. Therefore drinking a glass of water given to you by someone boiling with anger, just amounts to drinking poison.
In the spirit of eating food made with love, Nicolas has invited his mother & godmother to be in charge of cooking for the participants. The cooking process is accompanied by prayers and medicine music.
This ensures that your medicine journeys are supported by the prayers and blessings bestowed upon the meals that you'll have.
3 spots left
EARLY BIRD: SOLD OUT
TIER 2: $4700 USD (9 days All-Inclusive)
($8300 USD Couples)
Secure your spot with a $500 deposit.
*Payment Plans Available
YES, I'M IN. LET'S TALK !
Jeronimo Delgado
Shaman
Community founder.
10+ years of experience working with Ayahuasca and supporting thousands of people on their healing
Alejandro Echandia Betancur
Head Facilitator
Community Co-founder
20+ years of experience working with Ayahuasca in a supportive, therapeutic context.
Elder Shaman, Chief of Yunguillo Tribe
Shaman
Crowned shaman from the Inga tribe, Yunguillo – Amazon Jungle
20+ years of experience working with Ayahuasca
*Present only in some retreats
(prefers for his picture not to be on this website)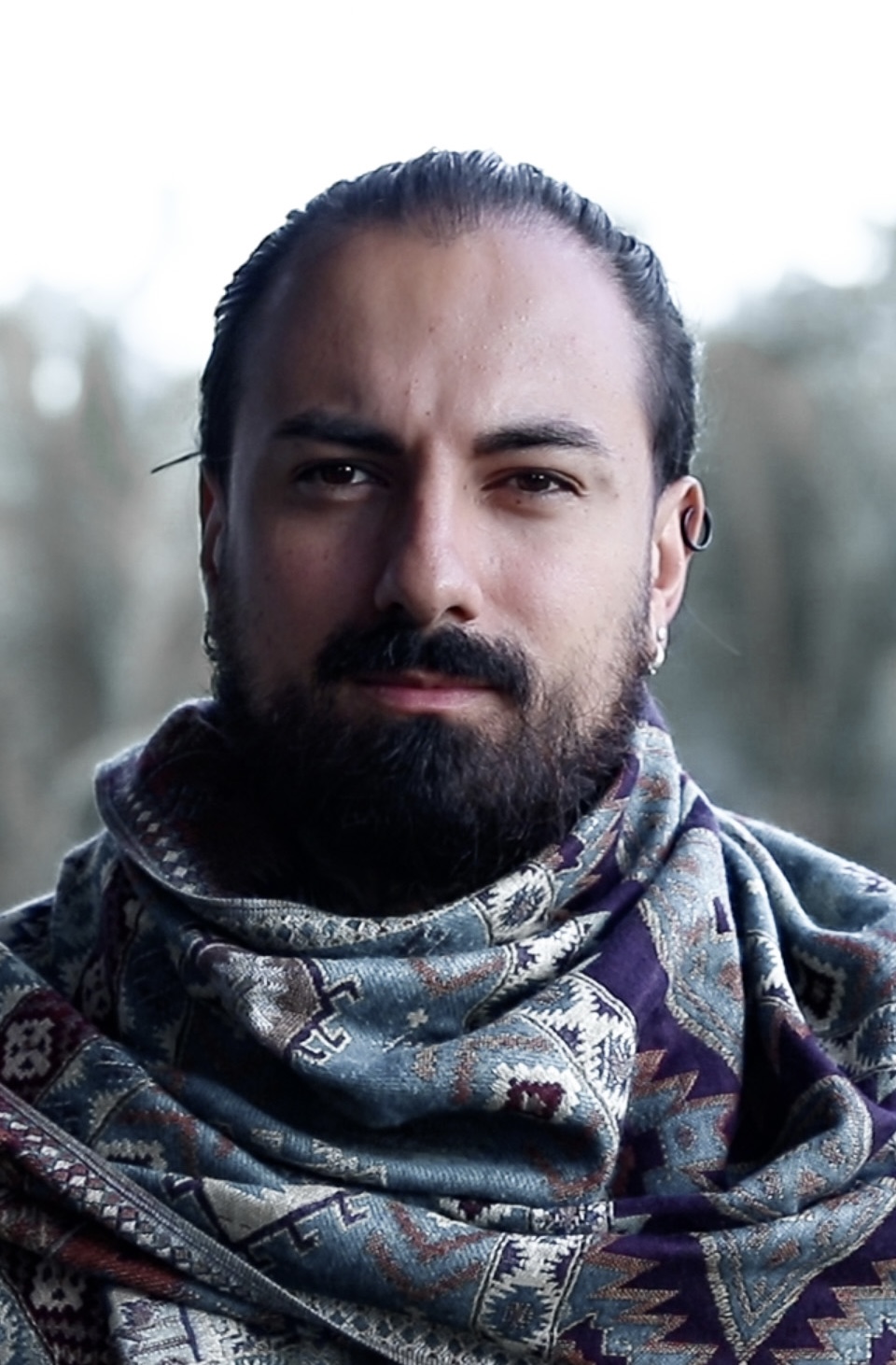 Nicolas Canon
Retreat Leader
Head Coach
Best-selling author & Relationship Expert.
9+ years supporting the conscious evolution of men and women around the globe.
The medicine, the territory, the community and the music merge together to create a safe and sacred space where you will feel comfortable exploring those parts within you that have remained ignored for far too long.
A space where you will feel ready to do the inner work that you know you MUST do to stop being stuck in a mediocre life, heal yourself, return to your centre and

understand your life's purpose.
Frequently Asked Questions
What happens if my partner cannot join?
To argue you need two yet to transform a relationship you only need one person.
If your beloved cannot (or is not interested) in coming, you may still register by yourself and awaken such a strong fire that -even without participating- your partner is transformed too.
Payments are non-refundable, but can be rescheduled, transferred or donated. (within a 12 month period). For additional information please refer to our Terms & Conditions.
What are the accommodations like?
This Retreat starts at the Tierra de Agua lodge (Land of Water) and ends at the Maloka of Purity (Indigenous Ayahuasca Temple).
There is private accommodation at our first location for couples and shared for singles. (Unless otherwise requested)

Then during the Ayahuasca part of the journey we'll have comfortable, open concept, shared accommodation inside the temple by the fire in the midst of nature.
(Comfortable bedding, mats and pillows are provided.)
Who is the Shaman?
Jeronimo Delgado &/or Taita Henrii Danilo Muchavisoy are the Shamans of the land, carriers of the Yage tradition through the ancestral teachings of the Inga culture, from the Amazon jungles.
They have 35+ years of combined experience supporting the healing journey of thousands of people. Their medicine is unaltered and prepared in the midst of nature/jungle in a pure way.
Can women on their period participate in ceremony?
When a woman is going through her Moon cycle, she is already experiencing her body's natural medicine. This is a sacred time – according to the indigenous tradition – for women.
During her moon, she spends time doing only the things she loves and being taken care of and supported by the men of the community.
A woman who gets her menstruation during or before a retreat, cannot drink ayahuasca due to potential hemorrhages (and a high likelihood of her body destabilizing by having both medicines at the same time)
So if you are a woman/couple planning to attend, please plan around your menstruation cycles so you don't have to miss out on any part of the process. And if your cycle is unstable let us know and keep a flexible flight booking so that your attendance may be adjusted if necessary.
I have high-blood pressure/I'm on medications, can I still attend?
Yes, we have treated thousands of people with these conditions. While filling out the application form there is a question for you to let us know the medical conditions you have so we can have our in-house Doctor review your file and recommend the ideal ways to prepare (or recommend against participation if needed)
We often have a medical doctor overseeing the health of our participants.
I'd love to research more before I make a decision, where do I start?
We started a Youtube channel focused on  Ayahuasca, Conscious Relating & Spirituality where you can learn a lot of the DO's & DON'Ts of plant medicine, and educate yourself properly around best practices and guidelines.